Frost, Williams & Co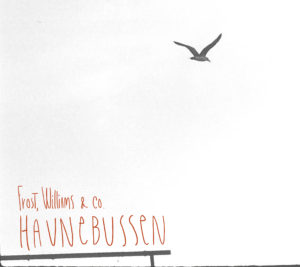 Photo: Rafael Guerrero.
Frost, Williams & Co: Havnebussen
ANMELDELSE AF IVAN ROD. 13. JUNI 2016
(…) Havnebussen består af ti numre, skrevet af henholdsvis guitaristen, Troels Frost, og bassisten, Peter Williams. Enkelte af disse numre er betitlet efter referencepunkter på havnebussens rute: Det gælder f.eks. Holmen North og Ndr. Toldbod. (…) Kvintettens instrumentale jazzmusik er smuk, lyrisk, melodisk og især båret af de to strengeinstrumenter, men også af saxofonisten, Magnus Poulsen, pianisten, Carsten Svanberg, og trommeslageren, Danni Holm. Musikken swinger, er livsglad og fremadskuende. Rig på stemninger og fine klangflader. (…)
***  /  Gateway Music  /  70 min.
Bandet består af:
▪TROELS FROST – GUITAR
▪PETER WILLIAMS – BASS UKULELE, BASS GUITAR
▪MAGNUS POULSEN – ALTO SAX
▪CARSTEN SVANBERG – PIANO
▪DANNI HOLM JENSEN – DRUMS
Havnebussen was borne out of the compositions of Troels Frost and Peter Williams, and their search for a place to practice. These two Copenhagen based musicians were in the process of making their chosen careers work alongside the reality of having recently become fathers, of different children, when they decided to workshop some of their new tunes by playing on the Copenhagen's water bus. Between the two of them they have covered about every musical style there is. Where they overlap, at least in writing style is in a funky, lounge-jazz, phusion, nu-jazz, jazz-hop, be-hop, country and western kind of an area. They discovered this during a Troels Frost Kvintet concert in Copenhagen Jazz Festival 2014. Peter was standing in for their regular bass player, the gig went really well, and afterwards Peter wasted no time in attempting to hijack the band.
LINK: HTTP://HAVNEBUSSEN.PETERWILLIAMS.DK